Diamonds
For example, did you know that the four C's (cut, color, clarity, and carat weight) do not truly give the buyer the whole story?

Cut refers to the shape (i.e. round brilliant, emerald, oval, etc.); however, within the shape important factors are the proportions of the diamond.
Call for an appointment 859-225-4366
email us at
pattie@bluegrass.net
©2005, all rights reserved, Pattie Hood Designs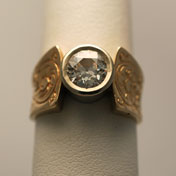 A one carat diamond may have much of the carat weight at the bottom which gives the appearance of a smaller size.

In comparison another one carat diamond cut wide, but shallow, will appear larger, but will not have the "flash" desired.
Each cut has its own criteria of proportion.
It is important that each client find the best quality diamond [s] his/her budget allows.

My promise is to help you select a diamond with the same diligence as if I were purchasing it for myself.

Because of my many long term relationships within the diamond industry in both the United States and Israel, I bring in only the best for my clients.